Instructions: Click on the pixel dimensions to view actual pixels. To use an image as your desktop background, right click on the image and click on 'Set As Background' or 'Set As Wallpaper.' (These options vary with different browsers).
Please review the Terms and Conditions before proceeding
. By law, use of this website signifies your understanding and agreement to these terms.
Do not redistribute
(i.e. re-upload or post on community/other websites, such as deviantart etc).
Do not modify or make graphics out of any of these works
(i.e. avatars/signatures/layouts/etc).
Wallpapers are for personal use as desktop wallpapers only.
For FAQs regarding theJADEDnetwork Wallpapers, please click here.
Saikano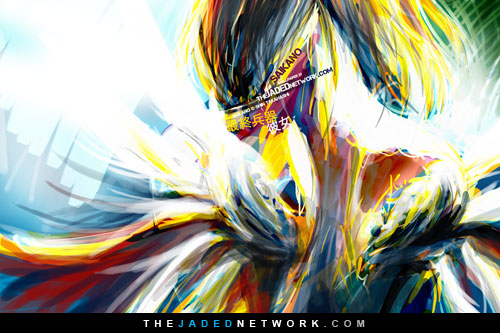 Details
Friday, February 26 2010 @ 10:09 AMWell, in keeping with one of my resolutions, here's a colorful wall of Saikano :).

Tablet...bits of vectoring here and there. Took me a while to get used to the vivid style over black and white.


Download
nice I like colorful art.
Nice, colorful combination of vectoring and tears (yours of course =P).

For some reason I really, REALLY love Japanese Kanji in combination with English text so I think that is a nice touch as well. Not really your strongest of papers but it's a nice branch into something different.
I'm not sure what Saikano is but the colorfulness of this is really pretty *sets as desktop* XD
---