Instructions: Click on the pixel dimensions to view actual pixels. To use an image as your desktop background, right click on the image and click on 'Set As Background' or 'Set As Wallpaper.' (These options vary with different browsers).
Please review the Terms and Conditions before proceeding
. By law, use of this website signifies your understanding and agreement to these terms.
Do not redistribute
(i.e. re-upload or post on community/other websites, such as deviantart etc).
Do not modify or make graphics out of any of these works
(i.e. avatars/signatures/layouts/etc).
Wallpapers are for personal use as desktop wallpapers only.
For FAQs regarding theJADEDnetwork Wallpapers, please click here.
Queen of Clubs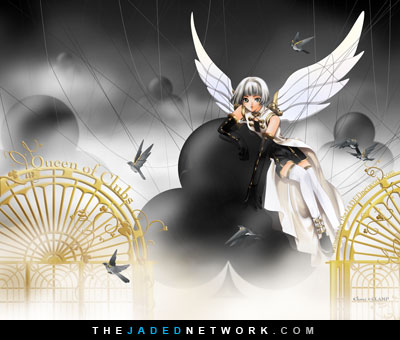 Details
Friday, March 2 2007 @ 10:24 PMI missed this style.

The original motive was to create a two-of-clubs card for Gideon's Deck o' Cards project. It ended up becoming a full wallpaper...and eventually something more like a queen of clubs rather than two of clubs.
Ah well. I'll just crop it and play with it a bit to make a card xp.

See the original card!
Download
---