Instructions: Click on the pixel dimensions to view actual pixels. To use an image as your desktop background, right click on the image and click on 'Set As Background' or 'Set As Wallpaper.' (These options vary with different browsers).
Please review the Terms and Conditions before proceeding
. By law, use of this website signifies your understanding and agreement to these terms.
Do not redistribute
(i.e. re-upload or post on community/other websites, such as deviantart etc).
Do not modify or make graphics out of any of these works
(i.e. avatars/signatures/layouts/etc).
Wallpapers are for personal use as desktop wallpapers only.
For FAQs regarding theJADEDnetwork Wallpapers, please click here.
'Lectric Daisy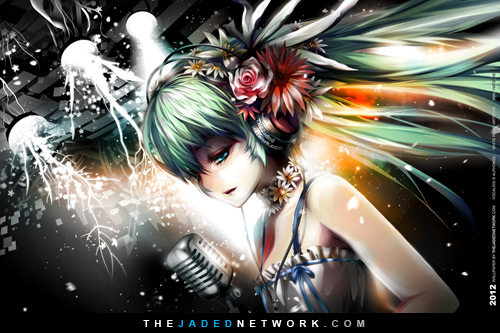 Details
Friday, June 22 2012 @ 1:12 AMIt's been a long while!

A bunch of stuff has happened... I've moved to a completely new state/city/neighborhood, got a new job, built a computer (a hackintosh, which is what I used to make this wall), and still I don't think I can ever give up walling :).

Here's my latest to date: 'Lectric Daisy. Based on Alphonse-sensei's awesome art collection of Hatsune Miku-chan. Love his works, and love Vocaloid (and at least a few hearts for some of the music).

Hope you guys like, comments/constructive crits always welcome :).

If you love it, please like on facebook/tweet this so I can spam your friends too ;D.
Download
Nice artwork you got there
Nice Wall.

I got a new job as well (working at a bakery now) and I'm heading back to school next semester to continue my major (computer science).

Hope all is well, keep up the great work.


very beautiful, I'm loving the colors- this wallpaper is my current on my desktop right now :)


Yay, it's been so long since you uploaded new wallpaper, this is such a joy!!!! I absolute like only these anime wallpaper because everywhere else in internet anime wallpapers look so boring. But These here at TJN are art, these are true beauty for my pc screens<3 Thank you, and I keep waiting patiently for more ^^


Absolutely beautiful! It's been a while since I've visited your site, but you never cease to amaze me with your wonderful graphics.

I was wondering, have you thought about creating some facebook layouts? I keep looking around for just the right one, but I can't seem to find it. I always end up back at your site wishing you made some :)


---