Instructions: Click on the pixel dimensions to view actual pixels. To use an image as your desktop background, right click on the image and click on 'Set As Background' or 'Set As Wallpaper.' (These options vary with different browsers).
Please review the Terms and Conditions before proceeding
. By law, use of this website signifies your understanding and agreement to these terms.
Do not redistribute
(i.e. re-upload or post on community/other websites, such as deviantart etc).
Do not modify or make graphics out of any of these works
(i.e. avatars/signatures/layouts/etc).
Wallpapers are for personal use as desktop wallpapers only.
For FAQs regarding theJADEDnetwork Wallpapers, please click here.
Hitokiri Battousai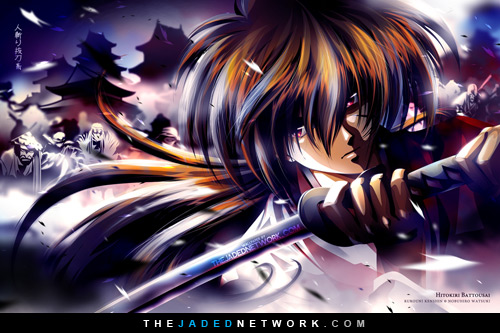 Details
Saturday, August 13 2011 @ 8:18 AMIt's been a long while.

Rurouni Kenshin was my first anime (excluding Sailor Moon, which in my book didn't count since I watched it in Chinese and didn't understand a word of it). And Kenshin was my first love <3.

As I said in a message to Gid just before posting this...
"pretty bishie
kenshin
holding a very big knife
he has redeye
like me
with sprinkles on top
and zombies in the bg."

The consensus was that "Zombies are always a nice touch."

Extra thanks to Mike for encouragement, and Nysha for the color-correction/contrast-rebalance help at...er...6am in the morning.

I think I need to sleep now.

See this on: Animepaper | The Otaku
Download
Yush new wallies and a Rurouni Kenshin too, I used too love that show.

*use to have a crush on him* *cough*
Man. This brings back memories. Kenshin inspired me when I first started working with anime graphics. Great job. >:]!!!
great to have you back Jade, tis' been a while indeed, and with a kick ass wall to boot, and wouldn't you know it its in my favorite colour


Ah Nostalgia. I loved this image of Kenshin and did make an attempt of using it once upon a time... and kind of failed there LOL.

Nevertheless, the colours look great :3


You finished! Looks so great on my HD monitor! 8D Great to see some love for Kenshin! Thanks jay!


---