Instructions: Click on the pixel dimensions to view actual pixels. To use an image as your desktop background, right click on the image and click on 'Set As Background' or 'Set As Wallpaper.' (These options vary with different browsers).
Please review the Terms and Conditions before proceeding
. By law, use of this website signifies your understanding and agreement to these terms.
Do not redistribute
(i.e. re-upload or post on community/other websites, such as deviantart etc).
Do not modify or make graphics out of any of these works
(i.e. avatars/signatures/layouts/etc).
Wallpapers are for personal use as desktop wallpapers only.
For FAQs regarding theJADEDnetwork Wallpapers, please click here.
Red Session Blues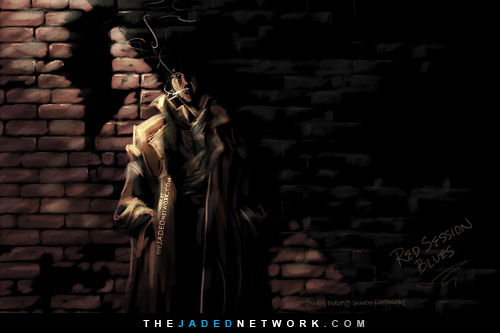 Details
Sunday, February 15 2009 @ 9:48 PMA bit of tablet fun with Painter....
Re-CGed a bebop scan of Spike. Loved the tone in the image.

This kinda reminds me of coffee shop art o_o.
Download
cool
this looks absolutely awesome. i love the texture and the colors. The lighting is done very well.

i think i'd like to see a bit of his hair haha since its a bit hard to tell that it's him, and the eye looks a bit funny ahaha, otherwise, great wall x]

thanks for sharing
Hey Jade, lovely wallpaper. Rough, sketchy...but the tone of the image says a lot and that's what is important when it comes to imagery. The impression and tone implanted upon the viewer as they witness it.
---