Instructions: Click on the pixel dimensions to view actual pixels. To use an image as your desktop background, right click on the image and click on 'Set As Background' or 'Set As Wallpaper.' (These options vary with different browsers).
Please review the Terms and Conditions before proceeding
. By law, use of this website signifies your understanding and agreement to these terms.
Do not redistribute
(i.e. re-upload or post on community/other websites, such as deviantart etc).
Do not modify or make graphics out of any of these works
(i.e. avatars/signatures/layouts/etc).
Wallpapers are for personal use as desktop wallpapers only.
For FAQs regarding theJADEDnetwork Wallpapers, please click here.
The Eyes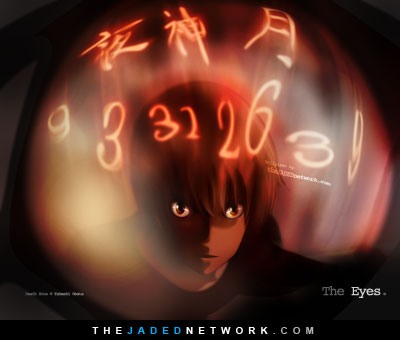 Details
Wednesday, January 3 2007 @ 2:28 PMPlayed with two screenshots and ended up with something like this...weird and red.

It was fun blowing Light's head up into a balloon though.
Download
si miras detenidamente parece que se mueve XD
gooooooooooooood

magnifique
esta buenisima
---