Instructions: Click on the pixel dimensions to view actual pixels. To use an image as your desktop background, right click on the image and click on 'Set As Background' or 'Set As Wallpaper.' (These options vary with different browsers).
Please review the Terms and Conditions before proceeding
. By law, use of this website signifies your understanding and agreement to these terms.
Do not redistribute
(i.e. re-upload or post on community/other websites, such as deviantart etc).
Do not modify or make graphics out of any of these works
(i.e. avatars/signatures/layouts/etc).
Wallpapers are for personal use as desktop wallpapers only.
For FAQs regarding theJADEDnetwork Wallpapers, please click here.
Ergo Chaos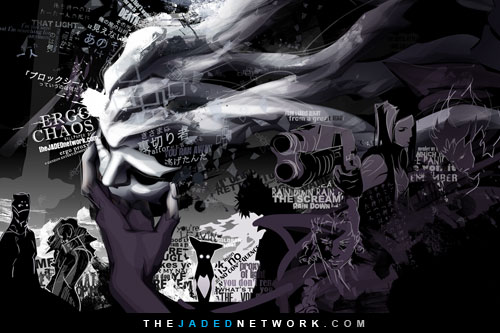 Details
Sunday, March 21 2010 @ 9:44 PMChaos style is FUN!! *w*

Song lyrics from the opening theme Kiri, and Paranoid Android. Some scripts based off of the series.
Download
Just want to thank you for all that you do for us. Your work is extremely appreciated. I don't want you to forget it.


It's a good series , recommend you watch it CAMN. Anyways, I like this. :D
nice website!
Fun looking wallpaper Jade, nice work!
This is so weird... love the wallpapers from this series, but I've never really seen it.

Maybe it's about time I do, my girlfriend said it's a good one... but then again, she likes every anime she watches. LOL!
---