Instructions: Click on the pixel dimensions to view actual pixels. To use an image as your desktop background, right click on the image and click on 'Set As Background' or 'Set As Wallpaper.' (These options vary with different browsers).
Please review the Terms and Conditions before proceeding
. By law, use of this website signifies your understanding and agreement to these terms.
Do not redistribute
(i.e. re-upload or post on community/other websites, such as deviantart etc).
Do not modify or make graphics out of any of these works
(i.e. avatars/signatures/layouts/etc).
Wallpapers are for personal use as desktop wallpapers only.
For FAQs regarding theJADEDnetwork Wallpapers, please click here.
Im Not Waiting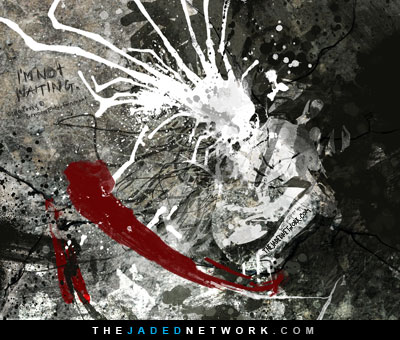 Details
Thursday, January 22 2009 @ 8:04 PMOk, so my tablet pen finally gave out in the middle of walling this...so I abandoned the stylus+brushes and changed back to the old-fashioned computer mouse. It wasn't as painful as I thought it might be...but there were some things I wanted to do that I couldn't do =/.
Saving up for a new tablet right now, and dreaming of the 9x12 Wacom Intuos....
Download
Awesomeeeeeeeee!!!!!!!!!!!!!
this... really reminded me of your "I will FLY" wall.
---