Instructions: Click on the pixel dimensions to view actual pixels. To use an image as your desktop background, right click on the image and click on 'Set As Background' or 'Set As Wallpaper.' (These options vary with different browsers).
Please review the Terms and Conditions before proceeding
. By law, use of this website signifies your understanding and agreement to these terms.
Do not redistribute
(i.e. re-upload or post on community/other websites, such as deviantart etc).
Do not modify or make graphics out of any of these works
(i.e. avatars/signatures/layouts/etc).
Wallpapers are for personal use as desktop wallpapers only.
For FAQs regarding theJADEDnetwork Wallpapers, please click here.
Reminisce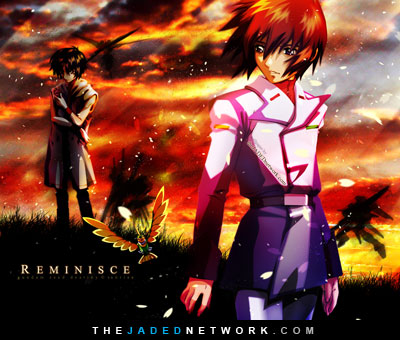 Details
Monday, January 13 2006 @ 1:03 AMI know most of you have been waiting for this one - a wall with Kira Yamato at last =P.



//-- Spoiler Warning


This wall was based on the last scene of the special episode 51 of Gundam Seed Destiny.


//-- Spoiler Over


Approximately 10 hours within the span of three days. Enjoy.
Download
i like this one ......:)(>_<).....jejejejeje
i like coustom kira yamanto...
wow.this is awesome at last i get what i want....
thx for posting.i just got in to Gundam Seed .....
Arigatou!! n_n
WOW this wall is amazing!!!! I love this anime!!! Great job!! you're one of the best designers ive seen so far. ^-^
---