Instructions: Click on the pixel dimensions to view actual pixels. To use an image as your desktop background, right click on the image and click on 'Set As Background' or 'Set As Wallpaper.' (These options vary with different browsers).
Please review the Terms and Conditions before proceeding
. By law, use of this website signifies your understanding and agreement to these terms.
Do not redistribute
(i.e. re-upload or post on community/other websites, such as deviantart etc).
Do not modify or make graphics out of any of these works
(i.e. avatars/signatures/layouts/etc).
Wallpapers are for personal use as desktop wallpapers only.
For FAQs regarding theJADEDnetwork Wallpapers, please click here.
Resolution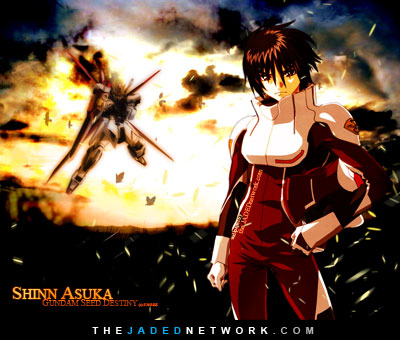 Details
2005Did this while at the library and a little more while hanging out with sis at Barnes. Two girls armed with laptops, books, and Jpop.
Download
I think Shinn is very handsome...... TO Shinn Ilove you very much

todo lo q sea de gundam seed y destiny bienvenidos sean a mi correo los espero con ansias, asi como un resumen de la seria no me caeria tan mal jajaja bien me despido q tengan un buen dia

byee!!!!
---