Instructions: Click on the pixel dimensions to view actual pixels. To use an image as your desktop background, right click on the image and click on 'Set As Background' or 'Set As Wallpaper.' (These options vary with different browsers).
Please review the Terms and Conditions before proceeding
. By law, use of this website signifies your understanding and agreement to these terms.
Do not redistribute
(i.e. re-upload or post on community/other websites, such as deviantart etc).
Do not modify or make graphics out of any of these works
(i.e. avatars/signatures/layouts/etc).
Wallpapers are for personal use as desktop wallpapers only.
For FAQs regarding theJADEDnetwork Wallpapers, please click here.
A World Crumbling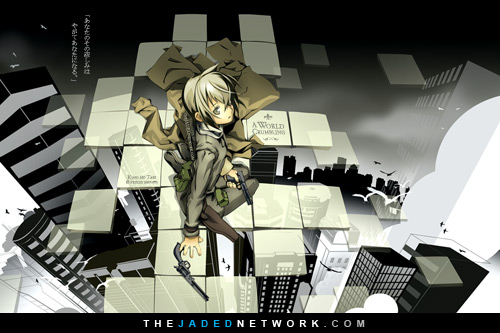 Details
Tuesday, December 28 2010 @ 12:05 AMAfter I saw Tama-neko's interpretation of this scan, I've always wanted to wall this very image. And after being on hiatus from walling since October, I decided it was about time to give it a shot again x).

As a side note: thanks to everyone for their constant support :). It's all those little things in life that seem to count now...and I just wanted to say I appreciate it.

New Year's Contest Plug!
Last chance to win an iPod Shuffle @ Dream-Ling.Net!! And happy new year everyone! :)
Download
Woo.. cool and deadly.. its an awesome,, did you create it from scratch? btw thanks


http://img208.imageshack.us/f/desktopxv.jpg/

Very nice wall, I love the effects of the blocks on top of the city....that's so awesome.
Awesome wallie :D Kino's artwork makes for really great walls XD
This is amazing <3 I love Tama's version but I love yours too <3 Happy New Year! :D
Great use of vanishing point.
---