Instructions: Click on the pixel dimensions to view actual pixels. To use an image as your desktop background, right click on the image and click on 'Set As Background' or 'Set As Wallpaper.' (These options vary with different browsers).
Please review the Terms and Conditions before proceeding
. By law, use of this website signifies your understanding and agreement to these terms.
Do not redistribute
(i.e. re-upload or post on community/other websites, such as deviantart etc).
Do not modify or make graphics out of any of these works
(i.e. avatars/signatures/layouts/etc).
Wallpapers are for personal use as desktop wallpapers only.
For FAQs regarding theJADEDnetwork Wallpapers, please click here.
Presenting Nana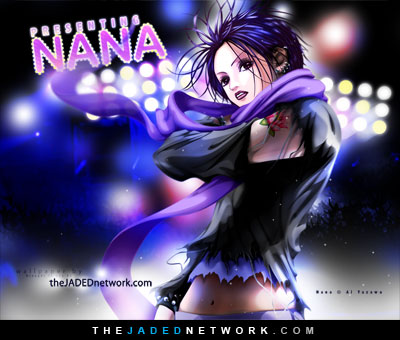 Details
Monday, May 15 2006 @ 7:12 AMAnother Nana wall <3.
I think I really like the whole rockstar theme...maybe I watched too much Kaikan Phrase...?

Approx. 8-9 hours...span of 3-ish days (can you tell I'm not really keeping track -_-;).

Edit 01.02.07
I got a cookie for submitting this wall to Instant Noodles! xp

Download
omg, im soo glad i started watching nana! its probly my fav anime, (so far) before i diddnt understand what the picture meant, but now i do! tee hee!i love the bright colours, it suits the show verrry well!
---