Instructions: Click on the pixel dimensions to view actual pixels. To use an image as your desktop background, right click on the image and click on 'Set As Background' or 'Set As Wallpaper.' (These options vary with different browsers).
Please review the Terms and Conditions before proceeding
. By law, use of this website signifies your understanding and agreement to these terms.
Do not redistribute
(i.e. re-upload or post on community/other websites, such as deviantart etc).
Do not modify or make graphics out of any of these works
(i.e. avatars/signatures/layouts/etc).
Wallpapers are for personal use as desktop wallpapers only.
For FAQs regarding theJADEDnetwork Wallpapers, please click here.
Face Me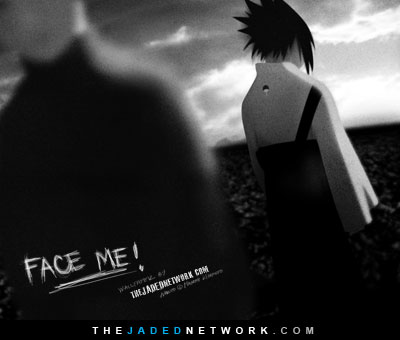 Details
Sunday, February 24 2008 @ 12:41 PMGoing for the grainy, black-and-white film look.
Loved this scene from Shippuden's intro.
Download
..................I can't say anything, this so cool
I saw this image for a split second its in one of the intros to the naruto shippuden. It looks exactly the same only added text wat exacty did u do to make this your design


T-h-i-s i-s s-o g-o-o-d!!!!!! Thats all i can say!!!!!!!!!!!!!!!!!!!!!!!!!!!!!!!!!!!!!
hi!!!!!!!!!!i love anime very much especially the naruto shippuden because all the characters are so cute........like uchiha sasuke and uzumaki naruto.....all of them i am going to die when i have absent in watching this movie......
swweet! i love naruto
---