Instructions: Click on the pixel dimensions to view actual pixels. To use an image as your desktop background, right click on the image and click on 'Set As Background' or 'Set As Wallpaper.' (These options vary with different browsers).
Please review the Terms and Conditions before proceeding
. By law, use of this website signifies your understanding and agreement to these terms.
Do not redistribute
(i.e. re-upload or post on community/other websites, such as deviantart etc).
Do not modify or make graphics out of any of these works
(i.e. avatars/signatures/layouts/etc).
Wallpapers are for personal use as desktop wallpapers only.
For FAQs regarding theJADEDnetwork Wallpapers, please click here.
Living In A Fairy Tale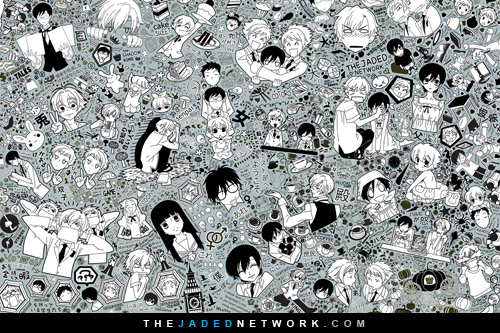 Details
Saturday, December 3 2011 @ 2:58 AMSo I was originally inspired by BlackRock's AP userpage background (which she has since updated, so you won't find it there anymore). But it was originally something by a group called "BLOOD SWEAT VECTOR". I guess I'll have to browse around for it again.

The main idea was: INFORMATION OVERLOAD VIA VECTOR OVERKILL.

This has got to be the longest WIP-shelf life wall I've ever worked on. It was pen tool and more pen tool. It was screenshots and scans. It was Illustrator crashing.

It was brutal, and I am never doing it again. (Probably.)

Edit: Extra thanks to Phoenix for the help with the ideas :) I died about halfway through and couldn't think of anything else to add...(see bottom right corner)
Download
I love busy walls, when you look at them there is always something new to see, and there's alot too see on this wall and I can see why you took so long doing it, also its refreshing to see an OHSC wall that isn't a fabulous picture of the boys and girl being fabulous but rather it reminds me of the walls off thefoxisblack.com, now if you excuse me Im gonna start lookin for a window color that matches the wall!


---