Instructions: Click on the pixel dimensions to view actual pixels. To use an image as your desktop background, right click on the image and click on 'Set As Background' or 'Set As Wallpaper.' (These options vary with different browsers).
Please review the Terms and Conditions before proceeding
. By law, use of this website signifies your understanding and agreement to these terms.
Do not redistribute
(i.e. re-upload or post on community/other websites, such as deviantart etc).
Do not modify or make graphics out of any of these works
(i.e. avatars/signatures/layouts/etc).
Wallpapers are for personal use as desktop wallpapers only.
For FAQs regarding theJADEDnetwork Wallpapers, please click here.
My Lady Love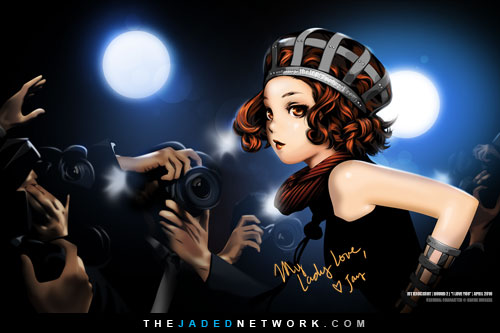 Details
Sunday, May 9 2010 @ 6:49 PMMade for Round 2 of MT Knockout 2010: I Love You
"You must feature at least 2 subjects – by subjects they can be people, objects or anything. But they have to be subjects and we need to see two. If you think about this theme, you have a bit of space to interpret this theme. There are endless possibilities."

Well, I'm a pretty big fan of cynicism, and the idea of boy + girl = love was too sweet for me. Sooo I decided to go a slightly different route: admiration, adoration, fan love.

Unlike last time where I crammed it all in last minute, this wall I actually took the early bird route and finished about a week and a half before the deadline. Starts feeling like a reality show when you realize you won by using a weapon of all things TT_TT.

Props to Ephemeral-Garden for her awesome wall. Lost to her by 2/10 of a point!! XD

Anyways, here's my "I Love You" interpretation >D.




Featured in Issue 5 of THEwaller under Shining Artists by Vitaamin.
Download
"Well, it was designed for desktop wallpapers -- not print ;)."

I like my desktop wallpaper without artifacts. :)
Right now I clearly see blocks everywhere.

Saving it with higher JPEG quality or as PNG would help.


Thanks! Too bad it has too much jpeg artifacts.


I've been waiting for you to post this wall! I LOVED this entry, definitely one of my favorite entries from this round, and I am so freakin' jealous that you came up with such a cool twist to the theme. I really wanted to do something a bit different but ended up shooting most of them down because I was worried the judges wouldn't "get" what I was trying to get at, with my limited attention span and lack of leet skillz >->

So yeah, hot wall, great interpretation, Range Murata again haha xD and an awesome new site! Lots of love all around. I've updated your link @ pixel ellipsis, even though you parked the old DR domain - I do like this new name a lot more :D
---