Instructions: Click on the pixel dimensions to view actual pixels. To use an image as your desktop background, right click on the image and click on 'Set As Background' or 'Set As Wallpaper.' (These options vary with different browsers).
Please review the Terms and Conditions before proceeding
. By law, use of this website signifies your understanding and agreement to these terms.
Do not redistribute
(i.e. re-upload or post on community/other websites, such as deviantart etc).
Do not modify or make graphics out of any of these works
(i.e. avatars/signatures/layouts/etc).
Wallpapers are for personal use as desktop wallpapers only.
For FAQs regarding theJADEDnetwork Wallpapers, please click here.
Song of the Battlecry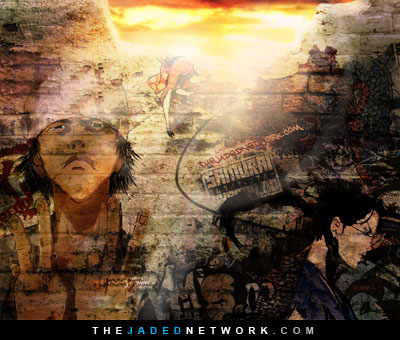 Details
Sunday, October 21 2007 @ 12:32 PMI've been wanting to try out a more graffiti style for a while now. I love the tone in Samurai Champloo, and wanted to recreate that tone without becoming generic.
Finally my mind hit a wall (har har, pardon the bad pun).


Download
---