Instructions: Click on the pixel dimensions to view actual pixels. To use an image as your desktop background, right click on the image and click on 'Set As Background' or 'Set As Wallpaper.' (These options vary with different browsers).
Please review the Terms and Conditions before proceeding
. By law, use of this website signifies your understanding and agreement to these terms.
Do not redistribute
(i.e. re-upload or post on community/other websites, such as deviantart etc).
Do not modify or make graphics out of any of these works
(i.e. avatars/signatures/layouts/etc).
Wallpapers are for personal use as desktop wallpapers only.
For FAQs regarding theJADEDnetwork Wallpapers, please click here.
Kaname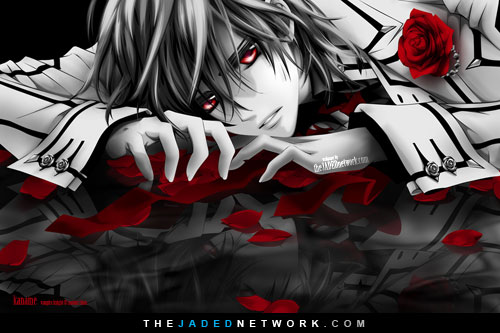 Details
Tuesday, September 8 2009 @ 11:26 PMAnother one for Kaname-lovers xp.
No Yuki this time either ~ so no complaints!!

It was originally supposed to be half of a collab, but in the end our schedules didn't meet up and couldn't finish in time =/.
Ah well, maybe next time?
Download
It's almost a year now since I've used this as my desktop wallpaper and i STILL can't bring myself to change it. Love your designs, can't wait to see other amazing things from here :)
=O Absolutely awesome! It reminds me of a wallpaper a made long..long ago. Another great addition.
Wow, haven't visited you site in a while, but this wallpaper is stunning :D

...as usual, of course ;D
That's a cool pic.I love it ^^
Beautiful, it's amazing! i love it!!! can't wait to see your next awesome pics =)) :D
---