Instructions: Click on the pixel dimensions to view actual pixels. To use an image as your desktop background, right click on the image and click on 'Set As Background' or 'Set As Wallpaper.' (These options vary with different browsers).
Please review the Terms and Conditions before proceeding
. By law, use of this website signifies your understanding and agreement to these terms.
Do not redistribute
(i.e. re-upload or post on community/other websites, such as deviantart etc).
Do not modify or make graphics out of any of these works
(i.e. avatars/signatures/layouts/etc).
Wallpapers are for personal use as desktop wallpapers only.
For FAQs regarding theJADEDnetwork Wallpapers, please click here.
Pink City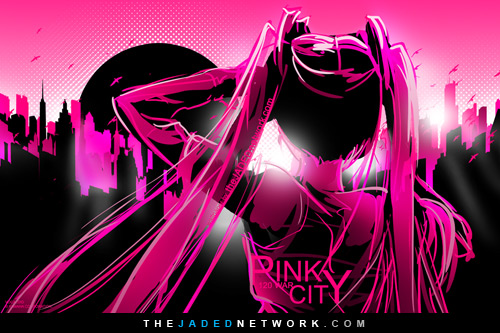 Details
Saturday, July 17 2010 @ 12:23 PM120 WAR ROUND 8!!
So....I procrastinated more than usual on this one XD. Made my bed, ate breakfast, ate brunch...and predictably ran out of time >D. Well, at least I was thinking the whole time I went through my morning routine.

Finally came upon PINK CITY.

No idea why, or where. Because I actually hate pink. Wish I'd had more time to add touches of white and stuff. But oh well, 120 mins up!! XD Added the white >D.
Download
AWESOMENESS! The pink + black ROCKS! Love the halftones too! <3 <3 <3
I love pink too! Wicked use of pink and black. Luving the pink hair and the city, the pink birds. ^.^
I LOVE THIS!
Because I love pink :'D
Pink and black rule, also love the text work and town :) I'm always surprised how you can make such a wall in just 2 hours. O _O
---