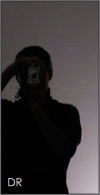 My name is Jay Lee, and I have traveled to the East Coast of the United States, studied in Kyoto, Japan for a time, and currently live in Southern California.
My preferred art mediums include: digital on adobe products, corel, web; fine on oil-on-canvas or charcoal; photography in black and white, with a focus on portraiture and music; and classical music on piano.
I work as a graphic designer and web developer with a primary interest in marketing, advertising, and business.