Instructions: Click on the pixel dimensions to view actual pixels. To use an image as your desktop background, right click on the image and click on 'Set As Background' or 'Set As Wallpaper.' (These options vary with different browsers).
Please review the Terms and Conditions before proceeding
. By law, use of this website signifies your understanding and agreement to these terms.
Do not redistribute
(i.e. re-upload or post on community/other websites, such as deviantart etc).
Do not modify or make graphics out of any of these works
(i.e. avatars/signatures/layouts/etc).
Wallpapers are for personal use as desktop wallpapers only.
For FAQs regarding theJADEDnetwork Wallpapers, please click here.
Laughter is Essential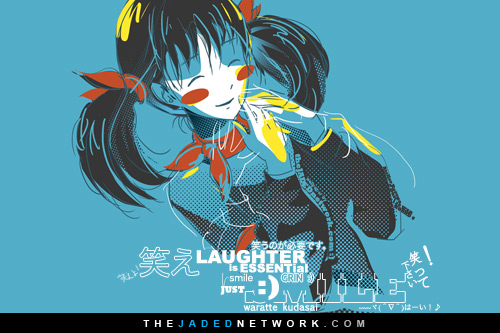 Details
Sunday, June 20 2010 @ 11:56 AM120 WAR ROUND 6!!
Well..I had no idea what Atelier Rorona was. It's a game apparently xp.

Kudos to Heart464 for her inspirational walling style :).
Download
for some reason, i got reminded of the ghibli logo/splash. maybe it's the blue. :-?
hands down Jade, yours is the best one in this round. Im a big fan of Hear464's work as well and the influence shows but being a DR original just makes it better, going straight to desktop!
Beautiful wallie! I love the blends and the color is very nice.
---