Instructions: Click on the pixel dimensions to view actual pixels. To use an image as your desktop background, right click on the image and click on 'Set As Background' or 'Set As Wallpaper.' (These options vary with different browsers).
Please review the Terms and Conditions before proceeding
. By law, use of this website signifies your understanding and agreement to these terms.
Do not redistribute
(i.e. re-upload or post on community/other websites, such as deviantart etc).
Do not modify or make graphics out of any of these works
(i.e. avatars/signatures/layouts/etc).
Wallpapers are for personal use as desktop wallpapers only.
For FAQs regarding theJADEDnetwork Wallpapers, please click here.
Persona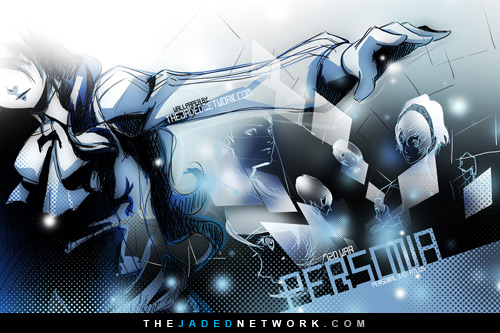 Details
Monday, July 19 2010 @ 9:16 AM120 WAR ROUND 9 >D
When I first saw Persona 3 art, I was blown away by its clean lines and classic, comic-style art. Really nice stuff. So I was kinda glad I got the opportunity to wall it (or make myself wall it) in 120 this weekend x).

Notice I went blue this time >w<.

I actually revised this quite a bit since I wasn't really happy with the original composition. Added some more sketchy-style characters, square shapes...lighting (not unlike in my last Pink City 120 War wallpaper).
Download
wow this looks brilliant and I havnt heard of the game but I will definitly check it out now.Jay this looks very futurisitc, not too many colours but still very effective!
Persona 3 has quite possibly some of the best art direction I've seen in a video game and I have to say it's nice to see someone take that direction and turn it into a wallpaper. I could ramble on like I normally do, but I'll just leave it at it perfectly captures the atmosphere present in the game.
---