Instructions: Click on the pixel dimensions to view actual pixels. To use an image as your desktop background, right click on the image and click on 'Set As Background' or 'Set As Wallpaper.' (These options vary with different browsers).
Please review the Terms and Conditions before proceeding
. By law, use of this website signifies your understanding and agreement to these terms.
Do not redistribute
(i.e. re-upload or post on community/other websites, such as deviantart etc).
Do not modify or make graphics out of any of these works
(i.e. avatars/signatures/layouts/etc).
Wallpapers are for personal use as desktop wallpapers only.
For FAQs regarding theJADEDnetwork Wallpapers, please click here.
Lets Play This Game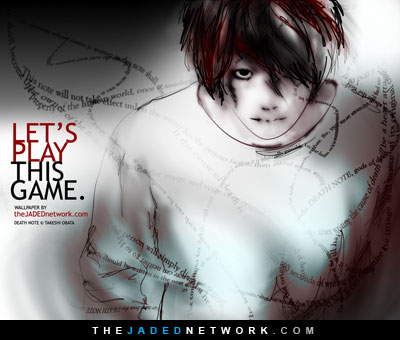 Details
Friday, October 31 2008 @ 12:35 AMSPOILER WARNING!!
L was an awesome character. I really hated it when he lost ;__;.

By the way, for those of you who weren't able to recognize the text, it's the Death Note "rules" that Light reads in the first episode. Hence, these are the "rules" of the game between L and Light.

Happy Halloween :).
Download
lol I stopped reading when L died...

Actually, that's also when there was this huge wait for scans, so I stopped XD
Ah, I love L! I was sads too when he lost. I wouldn't have continued Death Note if it wasn't for L. 3: sobs.
How did you make that text effect? I've never seen that before, it's pretty cool.


Nice wall.
Perfect for halloween... this empty facial expression =)
Scary Halloween!
---