Instructions: Click on the pixel dimensions to view actual pixels. To use an image as your desktop background, right click on the image and click on 'Set As Background' or 'Set As Wallpaper.' (These options vary with different browsers).
Please review the Terms and Conditions before proceeding
. By law, use of this website signifies your understanding and agreement to these terms.
Do not redistribute
(i.e. re-upload or post on community/other websites, such as deviantart etc).
Do not modify or make graphics out of any of these works
(i.e. avatars/signatures/layouts/etc).
Wallpapers are for personal use as desktop wallpapers only.
For FAQs regarding theJADEDnetwork Wallpapers, please click here.
Pick Treat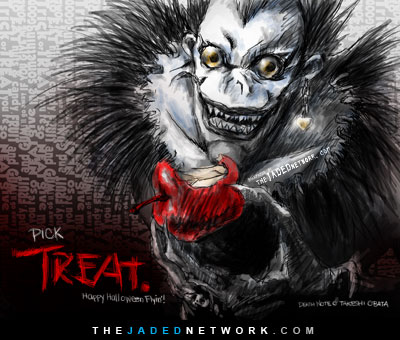 Details
Wednesday, October 31 2007 @ 1:49 AMHappy Halloween!

I did mention I'd get addicted to tablet right?

I actually made this wall quite a few weeks ago, as a part of the iNoodles 2007 Halloween Treats Project. This one (as you can see) was made for Flyindreams!

The idea is based on the old Trick-or-Treat rhyme:



Trick or treat, you're so neat.
Give me something good to eat.
Nuts and candy, fruit and gum.
I'll go away if you give me some.

Trick or treat, smell my feet.
I know you'll give us lots of treats.
Not too big, not too small,
Maybe the size of Montreal.

Trick or Treat, Trick or Treat,
Give me something nice to eat,
If you don't we don't care,
We'll put money in your underwear



Download
Excelente imagen, muy bn, trabajo ;D
i love death note and if you like other anime add me on my space my name is alisha crain
Love The Pic!!! Deathnote Is The Best!!!
YOU ROCK!! DEATHNOTE IS SOOO AWESOME!!!
nice pic
---