Instructions: Click on the pixel dimensions to view actual pixels. To use an image as your desktop background, right click on the image and click on 'Set As Background' or 'Set As Wallpaper.' (These options vary with different browsers).
Please review the Terms and Conditions before proceeding
. By law, use of this website signifies your understanding and agreement to these terms.
Do not redistribute
(i.e. re-upload or post on community/other websites, such as deviantart etc).
Do not modify or make graphics out of any of these works
(i.e. avatars/signatures/layouts/etc).
Wallpapers are for personal use as desktop wallpapers only.
For FAQs regarding theJADEDnetwork Wallpapers, please click here.
120 War on MSN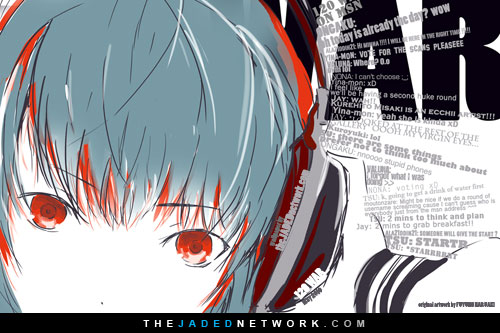 Details
Friday, May 21 2010 @ 5:52 AM120 WAR ROUND 2
Well I had fun with this one XD. Went for a modern, brushy look using tablet, and snagged bits of conversation from the 120 War MSN chat >D.

Notes
The original scan (here) was suggested by Kuryuki.
Download
I swear these are always on the day I don't have time. D:

I'm loving the colours, not too much a fan of the text. May be the font, I like the idea. XD
Not your best, but pretty fun wallpaper overall. Nice library of library of colors as well. Will be using, thanks Jade!
ah-mazing....how did the scan get from just a scan to a wallpaper like this?!
Argh... One of these days... Must join one of these...


Nice wallpaper Jay, I really enjoyed the war yesterday ! ^^


---