Instructions: Click on the pixel dimensions to view actual pixels. To use an image as your desktop background, right click on the image and click on 'Set As Background' or 'Set As Wallpaper.' (These options vary with different browsers).
Please review the Terms and Conditions before proceeding
. By law, use of this website signifies your understanding and agreement to these terms.
Do not redistribute
(i.e. re-upload or post on community/other websites, such as deviantart etc).
Do not modify or make graphics out of any of these works
(i.e. avatars/signatures/layouts/etc).
Wallpapers are for personal use as desktop wallpapers only.
For FAQs regarding theJADEDnetwork Wallpapers, please click here.
Torii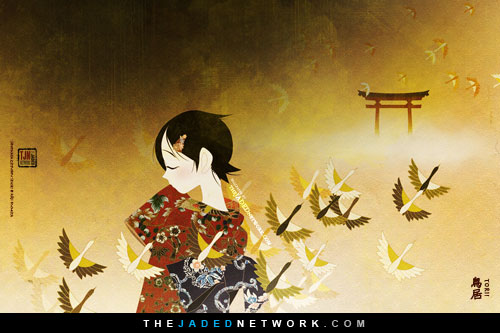 Details
Saturday, May 30 2009 @ 7:19 AM...simple is hard. I had to sleep on this one for a few days before finishing it (I usually like to make my walls in one go).

A lot of influence from looking at gorgeous Japanese wall paintings at the Imperial Palace as well as Nijo-jo castle in Kyoto. The color scheme actually came from a bunch of traditional-style bento boxes I saw at one of the shopping districts in Kyoto (I want one so bad!! But it's like $23 USD for a simple 3in x 6in lunchbox -_-;).

And lastly, the title of the wall, "Torii" or 鳥居 literally translates into "where the birds reside."
I recently went to visit the famous Fushimi Inari Shrine. It's known for its thousands of Torii gates, set up like tunnels going up a mountain. Fushimi Inari is actually dedicated to the Fox...not sure of its connection with the Torii gate.
Download
Lovely :D I've been thinking of walling this scan too, but with a really different concept. Always find it neat looking at how other people can have completely different take on scans \o/

...$23 for a lunch box? Seriously? >_> I really want to visit Japan, but man, hearing about crazy prices can definitely act as a huge deterrent...
How are things in Japan? I can't believe you have time to read my blog LOL. Shortly after writing that entry, I myself found it hard to update on a weekly basis... Work. -__- Ah but don't worry, I'm still quite active in mind and spirit!

And of course, great wallpaper! ^___^
---