Instructions: Click on the pixel dimensions to view actual pixels. To use an image as your desktop background, right click on the image and click on 'Set As Background' or 'Set As Wallpaper.' (These options vary with different browsers).
Please review the Terms and Conditions before proceeding
. By law, use of this website signifies your understanding and agreement to these terms.
Do not redistribute
(i.e. re-upload or post on community/other websites, such as deviantart etc).
Do not modify or make graphics out of any of these works
(i.e. avatars/signatures/layouts/etc).
Wallpapers are for personal use as desktop wallpapers only.
For FAQs regarding theJADEDnetwork Wallpapers, please click here.
When the Dead Child Rises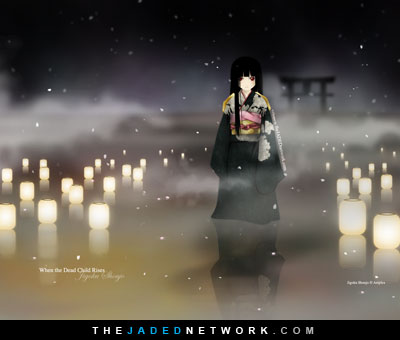 Details
Thursday, December 28 2006 @ 2:00 AMI love the lanterns in this one - maybe it's because of my mom's candle obsession @@.

To be honest, I didn't really enjoy the series...too long with an abused plot. Only the last three episodes of the first season were worth watching (haven't seen the second season yet).
But overall, I thought Enma Ai was worth walling.
Download
I like the scenery of it, especially the fog. Did you make this wallpaper about a month?


so..wonderful..
---