Instructions: Click on the pixel dimensions to view actual pixels. To use an image as your desktop background, right click on the image and click on 'Set As Background' or 'Set As Wallpaper.' (These options vary with different browsers).
Please review the Terms and Conditions before proceeding
. By law, use of this website signifies your understanding and agreement to these terms.
Do not redistribute
(i.e. re-upload or post on community/other websites, such as deviantart etc).
Do not modify or make graphics out of any of these works
(i.e. avatars/signatures/layouts/etc).
Wallpapers are for personal use as desktop wallpapers only.
For FAQs regarding theJADEDnetwork Wallpapers, please click here.
Welcome to My World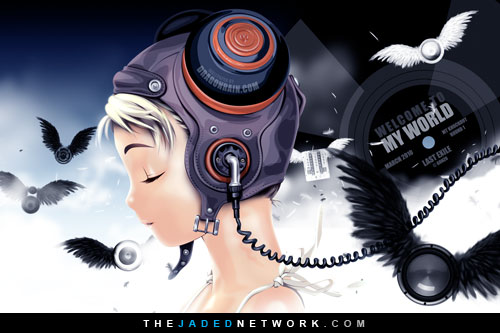 Details
Thursday, April 8 2010 @ 1:08 PMI FINALLY walled this scan!! OMG I've had this in my hard drive...for maybe the past three...four years? Never knew what to do with the thing until I saw the theme for the this contest:

Made for Round 1 of MT Knockout 2010: Welcome to My World!
"The theme is free for interpretation. It can be a reflection of your own world, or the world of the scan you've chosen."

You can find the link to the contest post here, and the link to the judges' results post here.

It was due around March 25th (date was a bit vague with all the time differences). And being me, I waited until the night before to start .___.; And the next day I'd promised to hike with some friends of mine...TIME CRUNCH, MAN.

But~~ I made it to the next round!! X]
Kudos to queerisblue and her awesome entry - master wall of chaos, seriously!

Now to think about "I love you..." oh wtf x~x"

P.S. Entry was made for widescreen...so you might take a look at it even if you have a skinny monitor xD.




Featured in Issue 4 of THEwaller under Shining Artists by Vitaamin.
Download
Indeed...what a lovely piece of work. What a treat for the eyes.
Loveeed it !! omggg soo freakin awesomee !!
Havent commented here. Shame on me!!! D:
I absolutely love her hair <33
And the vector makes me just speechless o3o
Congrats on the win! I love this scan too and adore what you did with it. ^__^ Good luck with the rest of the competition! I'll be cheering on everyone from the sidelines... XD
i really love this graphic,im a last exile fan and the colors are amazing
---