Instructions: Click on the pixel dimensions to view actual pixels. To use an image as your desktop background, right click on the image and click on 'Set As Background' or 'Set As Wallpaper.' (These options vary with different browsers).
Please review the Terms and Conditions before proceeding
. By law, use of this website signifies your understanding and agreement to these terms.
Do not redistribute
(i.e. re-upload or post on community/other websites, such as deviantart etc).
Do not modify or make graphics out of any of these works
(i.e. avatars/signatures/layouts/etc).
Wallpapers are for personal use as desktop wallpapers only.
For FAQs regarding theJADEDnetwork Wallpapers, please click here.
Today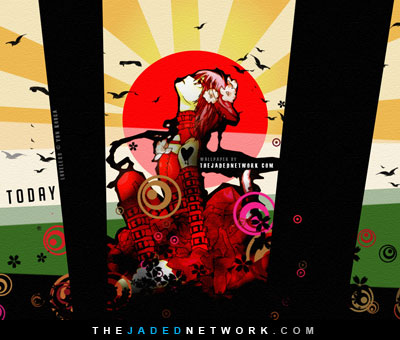 Details
2005This started out as the beginnings of a table layout..but when I realized how large the scale was (and I was also beginning to enjoy the style), I decided to change it into a wall. My first traditional vector piece.

3 hours.
Download
I just found your site and i just have to say YOUR AN AMAZING ARTIST!!!! uhhhh..>.> that's all i have to say...
My personal fave of all the wallpapers here. More please :D
---