Instructions: Click on the pixel dimensions to view actual pixels. To use an image as your desktop background, right click on the image and click on 'Set As Background' or 'Set As Wallpaper.' (These options vary with different browsers).
Please review the Terms and Conditions before proceeding
. By law, use of this website signifies your understanding and agreement to these terms.
Do not redistribute
(i.e. re-upload or post on community/other websites, such as deviantart etc).
Do not modify or make graphics out of any of these works
(i.e. avatars/signatures/layouts/etc).
Wallpapers are for personal use as desktop wallpapers only.
For FAQs regarding theJADEDnetwork Wallpapers, please click here.
Mushi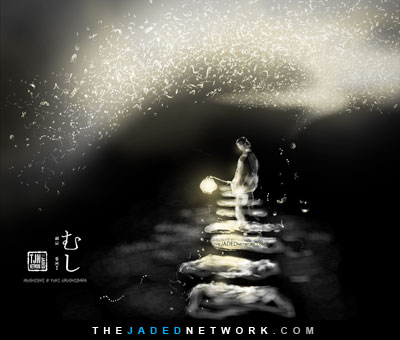 Details
Saturday, July 12 2008 @ 2:59 PMI've always wanted to do this one. It's been in my head since I first saw the "River of Mushi" episode.

Download
Cool! I like it! Thanks!
I swear, I see a smiley face in those light scribbles. Haha. Anyways, it's another great wallpaper. =]
Like usually, a very good wallpaper. Very interesting concept, and nice effects used in this image.
what episode did you get the pic idea from?


Hello Jade! Great new wallpaper, I'm going to switch from your blue wall to this one. I love the transparent look of the character. The only thing I think you could have improved on is the lighting and the speckles but it's enough to make me desktop it, good job. ;)
---