Instructions: Click on the pixel dimensions to view actual pixels. To use an image as your desktop background, right click on the image and click on 'Set As Background' or 'Set As Wallpaper.' (These options vary with different browsers).
Please review the Terms and Conditions before proceeding
. By law, use of this website signifies your understanding and agreement to these terms.
Do not redistribute
(i.e. re-upload or post on community/other websites, such as deviantart etc).
Do not modify or make graphics out of any of these works
(i.e. avatars/signatures/layouts/etc).
Wallpapers are for personal use as desktop wallpapers only.
For FAQs regarding theJADEDnetwork Wallpapers, please click here.
As Kazekage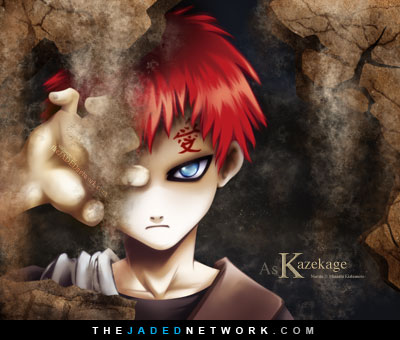 Details
Sunday, September 23 2007 @ 6:00 PMBecause everyone loves Gaara.

Man, Shippuden went out with an awesome start! Got me into Naruto again...for the meantime anyways.

Original Image Credits to Hiruka for her awesome fanart! Original fanart was used with permission from Hiruka.
Download
gaara i love you sooooooooooooooooooooooooooooooooooooooooooooooooooooooo muuuuuuuuuuuuuuuuuuuuuuuuuch

ola soy mexicana pero opino que gaara es genial y esta imagen es perfecta
So fantastic!
thanks for this image,... cause i like Gaara,....
SWEET.....this is the coolest pic of Gaara...i think...but then again there all good....
---