Instructions: Click on the pixel dimensions to view actual pixels. To use an image as your desktop background, right click on the image and click on 'Set As Background' or 'Set As Wallpaper.' (These options vary with different browsers).
Please review the Terms and Conditions before proceeding
. By law, use of this website signifies your understanding and agreement to these terms.
Do not redistribute
(i.e. re-upload or post on community/other websites, such as deviantart etc).
Do not modify or make graphics out of any of these works
(i.e. avatars/signatures/layouts/etc).
Wallpapers are for personal use as desktop wallpapers only.
For FAQs regarding theJADEDnetwork Wallpapers, please click here.
It Wasnt A Gentle Thing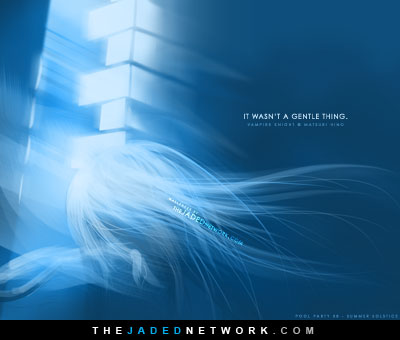 Details
Monday, July 7 2008 @ 2:29 AMI LOVE this series! That goes for anime and manga <3.

Entry made for the Summer 2008 Pool Party event. The theme was Summer Solstice, and my task was to wall in monochrome (sky blue).

Edit: Concept & Original Scan
Warning!! SPOILER!!!!

...Read on...
The wall is based on the scene when Yuki first changed into a vampire and glimpsed sunlight (and as a vampire, it hurt +_+).

Download
beautiful! thanks dude!
I really like the effect, it looks there is something alive in it.
I love vampire knight, beauty wall!!
---