Instructions: Click on the pixel dimensions to view actual pixels. To use an image as your desktop background, right click on the image and click on 'Set As Background' or 'Set As Wallpaper.' (These options vary with different browsers).
Please review the Terms and Conditions before proceeding
. By law, use of this website signifies your understanding and agreement to these terms.
Do not redistribute
(i.e. re-upload or post on community/other websites, such as deviantart etc).
Do not modify or make graphics out of any of these works
(i.e. avatars/signatures/layouts/etc).
Wallpapers are for personal use as desktop wallpapers only.
For FAQs regarding theJADEDnetwork Wallpapers, please click here.
Brother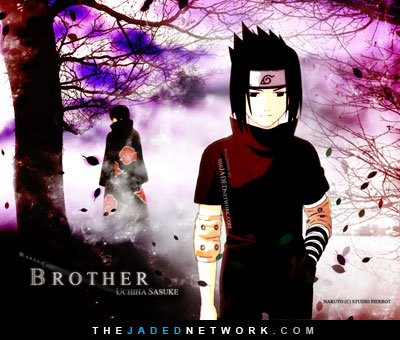 Details
2005This time I got a bit of background information before walling. It definitely helped make my life easier =P and I hope it doesn't disappoint any Naruto nuts out there.
Download
nice...i love sasuke
i love naruto
nice

bueno.....yo creo que sasuke no es como cualquier hombre, pues es muy serio(si estuviera en esa serie......no creo poder conquistarlo.
i like the silent effect that the trees make! once again, great job!;D
---