Instructions: Click on the pixel dimensions to view actual pixels. To use an image as your desktop background, right click on the image and click on 'Set As Background' or 'Set As Wallpaper.' (These options vary with different browsers).
Please review the Terms and Conditions before proceeding
. By law, use of this website signifies your understanding and agreement to these terms.
Do not redistribute
(i.e. re-upload or post on community/other websites, such as deviantart etc).
Do not modify or make graphics out of any of these works
(i.e. avatars/signatures/layouts/etc).
Wallpapers are for personal use as desktop wallpapers only.
For FAQs regarding theJADEDnetwork Wallpapers, please click here.
Damn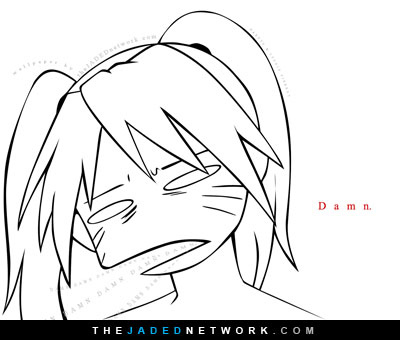 Details
Thursday, January 19 2006 @ 2:30 PMThis is Naruto in his "girl" getup.
I did this for fun - kinda the "height of the moment" sorta thing. 15 minutes.

I was feeling a little too tied up by my own standards, so I decided to do something painfully simple - something that I think translated my emotions fairly efficiently.

I don't know about anyone else, but I'm smiling =).
Download
XD I'm smiling too!!
Damn! rofl!
I really enjoy your comments, jajajaja. Thanks for the pics. XD
wahahaha this is cute!
---