Instructions: Click on the pixel dimensions to view actual pixels. To use an image as your desktop background, right click on the image and click on 'Set As Background' or 'Set As Wallpaper.' (These options vary with different browsers).
Please review the Terms and Conditions before proceeding
. By law, use of this website signifies your understanding and agreement to these terms.
Do not redistribute
(i.e. re-upload or post on community/other websites, such as deviantart etc).
Do not modify or make graphics out of any of these works
(i.e. avatars/signatures/layouts/etc).
Wallpapers are for personal use as desktop wallpapers only.
For FAQs regarding theJADEDnetwork Wallpapers, please click here.
First Movement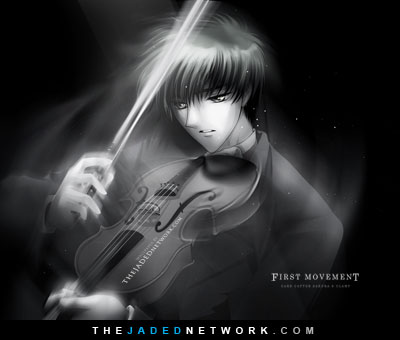 Details
Sunday, November 30 2008 @ 7:38 AMCLAMP's drawings tend to blend together after a while...so if you don't recognize the character, this guy's Sakura's older brother. I don't actually remember if he played the violin.

And for those of you who are not familiar with music, oftentimes long pieces are written as sonatas, and sonatas are usually broken up into three movements. Hence the title. (Do correct me if I'm wrong.)

Went for the rather formal photographer's version.
Download
If I remember Touya plays the Piano, not the Violin. However, I could be wrong considering the many jobs Touya has. He could be able to play the Violin and it wasn't shown in the anime/manga.
i.........like touya
a-m-a-z-i-n-g!!!!!

beautiful!!!!

i fell in love with touya all over again!!!
*.*

love touya...
does he play violin? "/

it's a wonderful picture!!


ohh my, sexy!!
love the movement effect on the wall..
this is sweet work
---