Instructions: Click on the pixel dimensions to view actual pixels. To use an image as your desktop background, right click on the image and click on 'Set As Background' or 'Set As Wallpaper.' (These options vary with different browsers).
Please review the Terms and Conditions before proceeding
. By law, use of this website signifies your understanding and agreement to these terms.
Do not redistribute
(i.e. re-upload or post on community/other websites, such as deviantart etc).
Do not modify or make graphics out of any of these works
(i.e. avatars/signatures/layouts/etc).
Wallpapers are for personal use as desktop wallpapers only.
For FAQs regarding theJADEDnetwork Wallpapers, please click here.
Dead Man In The Rain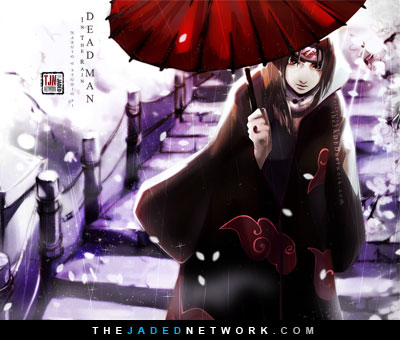 Details
Thursday, January 22 2006 @ 12:02 PMOk, so here's a real wallpaper =P.
I've always loved the Uchiha brothers - their story runs so deep. Itachi always looks like a corpse that's still walking - at least to my mind anyway.

10 hours T_T.

Enjoy.
Download
It took me FOREVER to find the original artwork for this. Maybe for future wallpapers you could reference who drew the scan (unless, of course, the artist I found is simply you under a different name; in which case, this can be disregarded completely)? I love the image, and I wanted to see more from the same artist. XDD

In any case, I really like all the work you've done on it for this wallpaper! You've really taken it and made it fit your style. The additional lighting/textures are lovely. I think I actually like Itachi's expression here better than his one in the original drawing.

Beautiful wallpaper!


Wow this is really good even me in a million can never draw or do something like this!!! So congrates!!!!
This is amazing!!! did you actually draw out itachi, if it is, your like the greatest artist ever
so.,they had emo and stuffs in that time era?well i dont think itachi is emo btw.,you should look it up.,character profiles and so on..anyway...great work.,its like he's kind of curious or just kind...older brother sort of feeling...
Very nice, brings out the feel of itachi being emo and stuffs... nice effect u used, keep up the great work (:
---