Instructions: Click on the pixel dimensions to view actual pixels. To use an image as your desktop background, right click on the image and click on 'Set As Background' or 'Set As Wallpaper.' (These options vary with different browsers).
Please review the Terms and Conditions before proceeding
. By law, use of this website signifies your understanding and agreement to these terms.
Do not redistribute
(i.e. re-upload or post on community/other websites, such as deviantart etc).
Do not modify or make graphics out of any of these works
(i.e. avatars/signatures/layouts/etc).
Wallpapers are for personal use as desktop wallpapers only.
For FAQs regarding theJADEDnetwork Wallpapers, please click here.
Midnight Spirits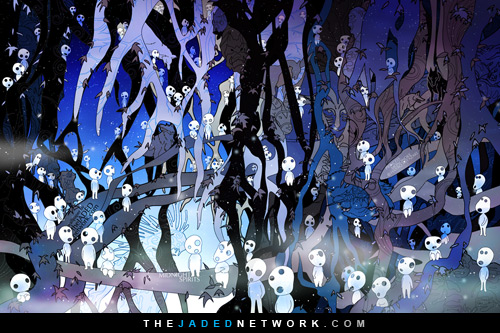 Details
Sunday, February 20 2011 @ 2:27 PMThe idea: LOTS of those little tree spirits. All over the place.

Okay, so I've actually had this somewhere in my head for a while now...just hadn't gotten around to actually making the wall. Props again to Kuroi Misa for getting me into the whole Art Nouveau style. Fun vector work, for sure :].

Check it out on AnimePaper!
Download
Thanks for the gorgeous wall...and especially for offering it in 1600x900! I can never find good wallpapers that fit!
Sweet, nice wall Jade. :)

My absolute favorite feature is the shadowy element of characters from the story included but subtly into the background. It's such a fun and cute wall, I'll be using this for a while.


I could go on and on about this wallpaper, but I'm sure the last thing you'd want to hear is me prattle on about it. Like how I absolutely love the choice of background color, and how it gives off such a feeling of serenity. Or, how I could go on and on about how much I love the tree spirits included and I can only imagine how much work went into those alone.

I could touch upon the fact that I love the inclusion of the other characters throughout the Princess Mononoke movie and how wonderful it was to blend them into the background, yet keep the outlines available. Or upon the fact that you continue to push the boundaries of walling with each new wallpaper. However, I wouldn't want to bore you so I won't.
I'm trying to download the picture, but for some reason it won't show Jade.


I love the movie and that scene. The forest ghosts are just too cute haha. But why can't I download the wall? I get redirected to this site: http://thejadednetwork.com/graphics/wallpapers


---