Instructions: Click on the pixel dimensions to view actual pixels. To use an image as your desktop background, right click on the image and click on 'Set As Background' or 'Set As Wallpaper.' (These options vary with different browsers).
Please review the Terms and Conditions before proceeding
. By law, use of this website signifies your understanding and agreement to these terms.
Do not redistribute
(i.e. re-upload or post on community/other websites, such as deviantart etc).
Do not modify or make graphics out of any of these works
(i.e. avatars/signatures/layouts/etc).
Wallpapers are for personal use as desktop wallpapers only.
For FAQs regarding theJADEDnetwork Wallpapers, please click here.
Watery Grave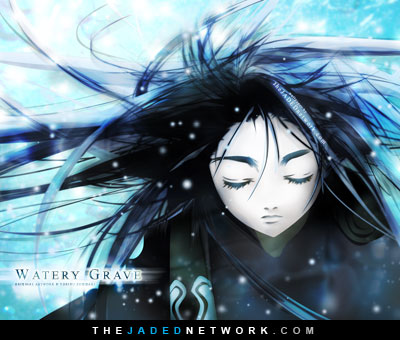 Details
Sunday, February 12 2006 @ 4:32 AMBased on the beautiful artwork of Yukiru Sugisaki. Re-did the scan completely for the sake of quality. I was very impressed by the impact of the scan, and decided to make a wall out of it. As I came to finishing up, I began to think it looked kinda like the girl in The Ring o.o....

Approximately 8 hours, span of 2-3 days.
Download
I just love it. My favourite with the one based on Kamui (Morbidity). Beautiful colors, beautiful scan, beautiful effects...just beautiful =D
the girl from The Ring?? you must be kidd'g..
Nice artwork~ really like it.. simple..
I truly like the mood of this amazing artwork. The color and effects blend perfectly. This is one of my favorite, thanks for the pic meeow~
Nice effects. color harmony is just superb. =)
---