Instructions: Click on the pixel dimensions to view actual pixels. To use an image as your desktop background, right click on the image and click on 'Set As Background' or 'Set As Wallpaper.' (These options vary with different browsers).
Please review the Terms and Conditions before proceeding
. By law, use of this website signifies your understanding and agreement to these terms.
Do not redistribute
(i.e. re-upload or post on community/other websites, such as deviantart etc).
Do not modify or make graphics out of any of these works
(i.e. avatars/signatures/layouts/etc).
Wallpapers are for personal use as desktop wallpapers only.
For FAQs regarding theJADEDnetwork Wallpapers, please click here.
Mugen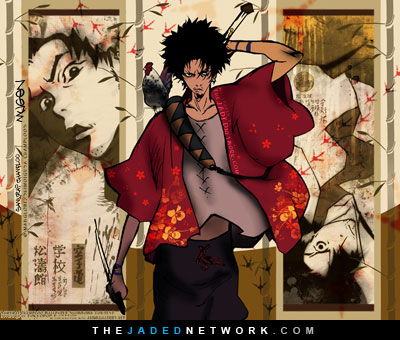 Details
Tuesday, December 06 2005 @ 11:39 PMA sour expression, chickens feet, flowers, and...paintings. My hats off to finals week.

Was enjoying to "Battlecry" (don't think I can ever memorize the words).



Permissions

AnimeGalleries.Net is granted permission to display the 1280x1024 resolution version of this wallpaper as a winner of Staff Favorite, in accordance with the Samurai Champloo Wallpaper Showdown contest rules. This contest was sponsored by TokyoPop and Geneon, in conjunction with AnimeGalleries.Net.
For more information regarding Permissions, please refer to the TJN Terms and Conditions.
Download
This is a beautiful piece, I really loved it the first time I saw it. However, the first time I saw it was not on your website (this is my first visit here, your work is wonderful!) nor on the website you listed in the comics. You've probably heard this before and discovered it yourself but are you aware that this picture is all over the internet? At least three other websites have this same picture (thought I can't list them offhand). Just thought you'd want to know that other people are reaping the benefits of your work.


---