Instructions: Click on the pixel dimensions to view actual pixels. To use an image as your desktop background, right click on the image and click on 'Set As Background' or 'Set As Wallpaper.' (These options vary with different browsers).
Please review the Terms and Conditions before proceeding
. By law, use of this website signifies your understanding and agreement to these terms.
Do not redistribute
(i.e. re-upload or post on community/other websites, such as deviantart etc).
Do not modify or make graphics out of any of these works
(i.e. avatars/signatures/layouts/etc).
Wallpapers are for personal use as desktop wallpapers only.
For FAQs regarding theJADEDnetwork Wallpapers, please click here.
I Will Fly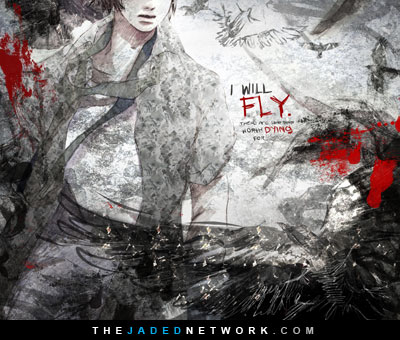 Details
Monday, January 28 2008 @ 11:54 PMMade for Round I of EXD GRAPHIC DESIGN CRAZE, hosted by Essenxa Designs.
The theme: your future.

Though I've been around anime-graphic design for a while now, I never really entered a contest until this one. It's turning out to be a pretty fun experience :).
Download
This looks kinda kuje from advance wars : days of ruin
Very nice :)
---