Instructions: Click on the pixel dimensions to view actual pixels. To use an image as your desktop background, right click on the image and click on 'Set As Background' or 'Set As Wallpaper.' (These options vary with different browsers).
Please review the Terms and Conditions before proceeding
. By law, use of this website signifies your understanding and agreement to these terms.
Do not redistribute
(i.e. re-upload or post on community/other websites, such as deviantart etc).
Do not modify or make graphics out of any of these works
(i.e. avatars/signatures/layouts/etc).
Wallpapers are for personal use as desktop wallpapers only.
For FAQs regarding theJADEDnetwork Wallpapers, please click here.
The Fallen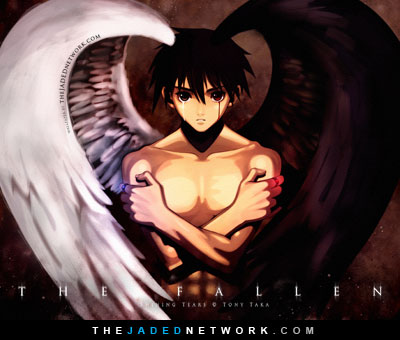 Details
Saturday, March 25, 2006 @ 5:21 AMI was about to call this "Buffalo Wings" just because they took me forever to finish, but in the end decided not to.
This took a lot of patience, but I think I enjoyed it more than usual.

Approximately 10-12 hours, span of 3 days (the after-finals BINGE man), and...er...a gazillion layers (I actually had to separate this into four different files...the computer kept on freezing on me because the file was so big -_-).
Download
Wow, you finished the wings? it looks like it was always this way! Man I wish I was that good...T.T
So this is where this piece originated from. I have seen it all over the net!!! Omg.. it's absolutely beautiful.. excellent!!~

R x.


---