Instructions: Click on the pixel dimensions to view actual pixels. To use an image as your desktop background, right click on the image and click on 'Set As Background' or 'Set As Wallpaper.' (These options vary with different browsers).
Please review the Terms and Conditions before proceeding
. By law, use of this website signifies your understanding and agreement to these terms.
Do not redistribute
(i.e. re-upload or post on community/other websites, such as deviantart etc).
Do not modify or make graphics out of any of these works
(i.e. avatars/signatures/layouts/etc).
Wallpapers are for personal use as desktop wallpapers only.
For FAQs regarding theJADEDnetwork Wallpapers, please click here.
Tell Me Goodbye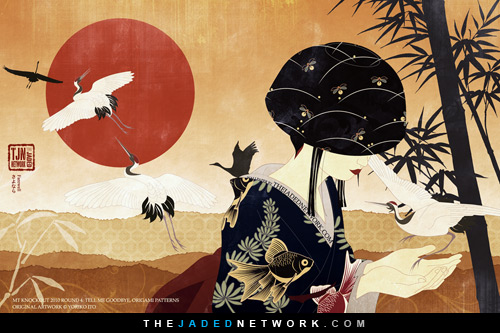 Details
Tuesday, July 13 2010 @ 3:19 AMMade for the Final Round 4 of MT Knockout 2010: Tell Me Goodbye
"Theme: Tell Me Goodbye
Origami Patterns"

I promised myself last time that I wouldn't be making any more last-minute entries, but obviously I failed >_>. I actually ended up doing part of this on the ride to a friend's house for dinner (I had my laptop with me in the car ._.).

Formally, this wasn't a super difficult wall. It was just...coming up with ideas. And even then I felt it was a bit cliché - went along with the whole 1,000 Cranes legend, Hiroshima, and a Japanese woman in kimono. I couldn't think of anything else for "tell me goodbye" + origami patterns >_<.

HUGE thanks to Misa for hosting this AMAZING Knockout Contest. After working on AP Clash with Flyin', I realized just how difficult running a contest can get >_<. Kudos to you Misa, you deserve it! *bows*
Download
Good wall, although it's vibrant it seems to have more balance and less chaos going on. Love the patterns and textures as well!

Still wearing the FMA wall, but I'm getting a 1600x900 resolution monitor with a computer soon. I'm very happy you make walls for different resolutions. I'd like to make some myself one day.
Congrats, this texture is beautiful.
Thank you so much, this one is really beautiful. I'm currently using this wallpaper :D.
Congratz, i luv this. :)
Awesome! I was waiting to fullview this 8)
Congrats again Jay!
---