Saturday, March 24, 2007 | Posted by Jay I love Miyazaki's films - they always seem to have a life of their own. I watched
Nausicaa and the Valley of the Wind
in Japanese - there was no subbed or dubbed version in the set I had - and even though I couldn't understand all the stuff they were saying, the animated images just told the story by itself.
So here's a before-and-after on the Nausicaa wall I did almost a year ago (dang - time passes by fast!).
Click on the image to view a larger version.



Before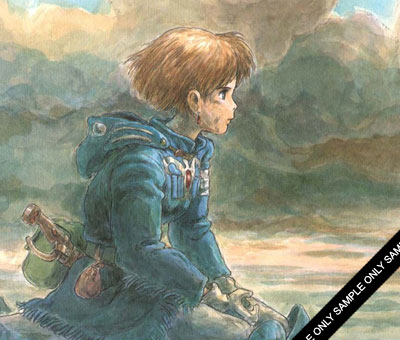 After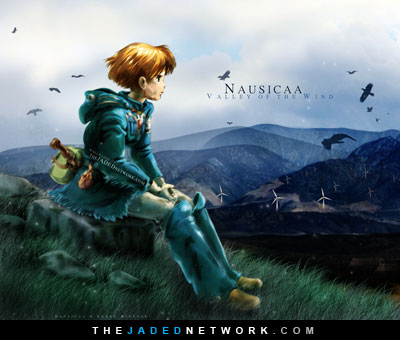 The girl is based on the scan, and most of the frontal scenery which had some photoshop edits to it. The mountains and background were a mix of stock photos and photoshop magic; the windmills I drew myself and added them on (what better to represent a "valley of wind" but windmills?).
This wall was actually the first one I worked on after I bought my beloved mac. I started out CG-ing it in Illustrator...but eventually admitted defeat and went back to the more familiar Photoshop.
TJN Terms: For personal use only. Do not modify, use to create graphics, sell, publish, or redistribute.
Read more on the TJN TOS
here
.
---
More Weblog Entries

Version 4.0

TJN's got a new facelift! We're now upgraded AWAY from the stone ages - faster code, dividers, organized styling...I'... Read more?


Tips To Save On Gas

If you remember gas prices shooting up in 2007, well, there were a bunch of emails like this floating around. Instead... Read more?


Making a Website for the First Time

I've received quite a few emails over the years TJN has been up and running (and while it was known as Dragonrain before... Read more?


New Server 2011

If you're seeing this post, that means that TJN has successfully been relocated to the new server. Thanks to ... Read more?


Every Conscious Hour of February 1st 2011

When I first heard about Hourly Comics from Gid, I was like "oh, that's a cool idea" and figured I'd join in for shits ... Read more?


Little Tweaks All Over The Place

Hello hello, I'm back with some site maintenance news and updates! A lot of small changes that filled up quite a few ... Read more?


SFX Translations 102

YAY FOR SFXs!!!Quite a few tweaks made in our SFX Translations section:A Stronger Search Engine - Fully-Compatible with ... Read more?


The Mask

Well I was gonna dress up as Waldo originally - went to Costume Castle and everything to look for the Harry Potter style... Read more?


Tree at the Top of the Mountain

I've been having quite a few problems at home (which I commented on AP Clash 2010 during the final round post)...SOOO I ... Read more?


Mini Crab Chips

So I finally got around to hunting down the local Japanese market, Mitsuwa, and had Ramen there for the first time last ... Read more?


Highlighted Posts

Current Projects

Completed Projects

WB Galleries

Who is behind TJN?

My name is Jay Lee, and I have traveled to the East Coast of the United States, studied in Kyoto, Japan for a time, and currently live in Southern California.

My preferred art mediums include: digital on adobe products, corel, web; fine on oil-on-canvas or charcoal; photography in black and white, with a focus on portraiture and music; and classical music on piano.

I work as a graphic designer and web developer with a primary interest in marketing, advertising, and business.

Read more about Jay
---