Instructions: Click on the pixel dimensions to view actual pixels. To use an image as your desktop background, right click on the image and click on 'Set As Background' or 'Set As Wallpaper.' (These options vary with different browsers).
Please review the Terms and Conditions before proceeding
. By law, use of this website signifies your understanding and agreement to these terms.
Do not redistribute
(i.e. re-upload or post on community/other websites, such as deviantart etc).
Do not modify or make graphics out of any of these works
(i.e. avatars/signatures/layouts/etc).
Wallpapers are for personal use as desktop wallpapers only.
For FAQs regarding theJADEDnetwork Wallpapers, please click here.
Toxic City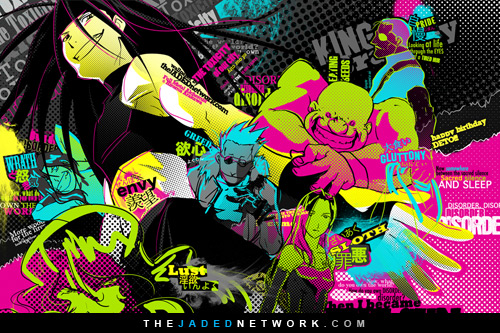 Details
Saturday, June 12 2010 @ 4:06 PMHappy b-lated birthday Deto!! ♥♥♥

And sorry this was late again ><.

So...I know Deto likes FMA like crazy, so there was really only one series I could wall this year xp. One of the messiest walls I've ever made, for sure (perhaps second to my last Ergo Proxy wall).

Had fun with halftones too :). Be warned, this breaks all formal rules about focus and whatnot. You will get dizzy >D.

Lyrics from Toxicity :3.
Download
nnnngh, I hate to nitpick, the design is so cool...
the only thing bugging me is that the kanji by Sloth is not "sloth" but "guilt"...>_<

Aaaah, but such great colors!
Hadn't been on the site in a while. Wow Jay, this thing is so sexy and colorful! I'm really liking this, besides that I'm a big time FMA fan.

Check it: http://img697.imageshack.us/img697/871/desktoprzt.jpg
oh it's my favorite animation.
please give me some CG or ficture
I spy System of A Down :D
Really cool design. Decorating my desktop atm :3
Pink and blue rock D:<
Love the pattern and design work, I want ED though! ><
---