Instructions: Click on the pixel dimensions to view actual pixels. To use an image as your desktop background, right click on the image and click on 'Set As Background' or 'Set As Wallpaper.' (These options vary with different browsers).
Please review the Terms and Conditions before proceeding
. By law, use of this website signifies your understanding and agreement to these terms.
Do not redistribute
(i.e. re-upload or post on community/other websites, such as deviantart etc).
Do not modify or make graphics out of any of these works
(i.e. avatars/signatures/layouts/etc).
Wallpapers are for personal use as desktop wallpapers only.
For FAQs regarding theJADEDnetwork Wallpapers, please click here.
Eureka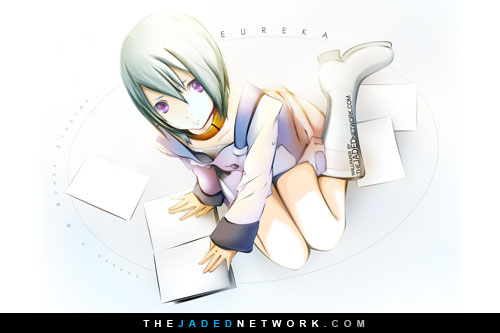 Details
Saturday, September 16 2006 @ 1:36 pmFirst wallpaper to salute the new school year!
Actually, I didn't know anything about the series when I found the scan. I did my usual bit of research, but found a lot of the information kinda lacking - there wasn't a lot on Eureka's character.
After watching the series though, I realized this was because the story is partially about Eureka's character development. So reading up on her "final" character would spoil the whole thing >_>....

Anyways, simple style, yet not so simple. Took me patience I didn't have, and a lot of ice cream I wasn't supposed to eat >XD. Enjoy!
Download
I like this because of the light effect used on the picture. And it is my favorite anime. : ) is there any way you could send me a larger pic?


this one is awesome! can i please get a copy with 1920X1080 reso?
"and a lot of ice cream I wasn't supposed to eat"

kkkkkkkkkkkkk loved it!
I like this wallpaper. Especially for the smooth color
Wow! I love it! Please make a few more eureka 7 wallpapers q.q!
---