Instructions: Click on the pixel dimensions to view actual pixels. To use an image as your desktop background, right click on the image and click on 'Set As Background' or 'Set As Wallpaper.' (These options vary with different browsers).
Please review the Terms and Conditions before proceeding
. By law, use of this website signifies your understanding and agreement to these terms.
Do not redistribute
(i.e. re-upload or post on community/other websites, such as deviantart etc).
Do not modify or make graphics out of any of these works
(i.e. avatars/signatures/layouts/etc).
Wallpapers are for personal use as desktop wallpapers only.
For FAQs regarding theJADEDnetwork Wallpapers, please click here.
Outcast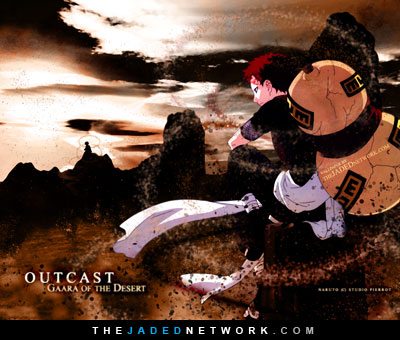 Details
2005Gaara of the Desert. Outcast.
This was another one of my waller's block pieces. The scan was very
expressive, and I wanted to capture it on a wall. Easier said than done
@@;.
This piece took about 3 hours, two persimmons, four
mini kit-kat bars, and random JPop music playing early before
dawn.
Download
congratulations!! i love ur page
nice lay out
cool
---