Instructions: Click on the pixel dimensions to view actual pixels. To use an image as your desktop background, right click on the image and click on 'Set As Background' or 'Set As Wallpaper.' (These options vary with different browsers).
Please review the Terms and Conditions before proceeding
. By law, use of this website signifies your understanding and agreement to these terms.
Do not redistribute
(i.e. re-upload or post on community/other websites, such as deviantart etc).
Do not modify or make graphics out of any of these works
(i.e. avatars/signatures/layouts/etc).
Wallpapers are for personal use as desktop wallpapers only.
For FAQs regarding theJADEDnetwork Wallpapers, please click here.
Alien Serenade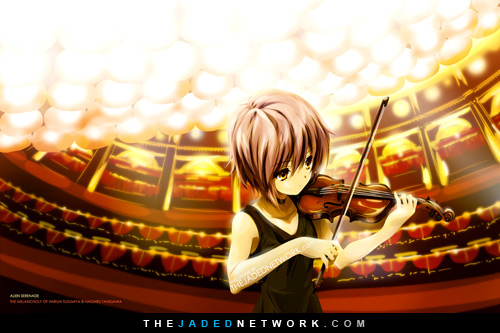 Details
Saturday, March 5 2011 @ 2:20 PMOMFG. I wanted to upload this SO bad, but had to fix the download error after the server move first ;_;. Thanks for all your patience and dutiful error-reporting guys!

And comments for the wall..
Made as a request by a few different people, namely Ned, who asked for The Melancholy of Haruhi Suzumiya, and GoldenApe who asked for this scan.

First time mixing painting with vectoring in one wall. Always wondered if that would work out x).

Enjoy!

..And now to some much-needed, super-fattening ice cream cookie sandwich ~w~
Download
I just had to comment cause this picture was beautiful. It looks so elegant.
Oh,Yuki!I like this!~~~
A new way to make all my friends jealous! <3
sadFASDF great wall Jay.
Awesome tattoo on her arm! XDD The placement of the sig really made me laugh, haha. Great work on the vectoring as usual and the extension you created looks great. :)
---