Instructions: Click on the pixel dimensions to view actual pixels. To use an image as your desktop background, right click on the image and click on 'Set As Background' or 'Set As Wallpaper.' (These options vary with different browsers).
Please review the Terms and Conditions before proceeding
. By law, use of this website signifies your understanding and agreement to these terms.
Do not redistribute
(i.e. re-upload or post on community/other websites, such as deviantart etc).
Do not modify or make graphics out of any of these works
(i.e. avatars/signatures/layouts/etc).
Wallpapers are for personal use as desktop wallpapers only.
For FAQs regarding theJADEDnetwork Wallpapers, please click here.
Flight in Motion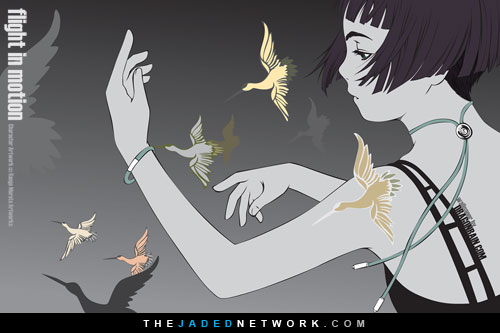 Details
Saturday, April 24 2010 @ 6:46 PMI came across the scan for this when I was looking for subjects to wall for MT Knockout Round 1, but could only imagine using a simple style with it...so I saved it for later (i.e. now >D).

Done all in Illustrator - something I rarely do these days. I still couldn't figure out how to resize the actual content in Illustrator (besides just the artboards). If any of you can enlighten me, please do ;).

Hope you like. Pretty random mix of stuff...a conceptual wall.

And now back to work again *-*


Download
Quite simple and elegant, the gray-ish background is definitely mellow and has quite a lazy/relaxed tone to it. But notice how the character's eyes are half open, as if she's searching for something. Somehow it all fits, nice job.
was hoping you uploaded your round 2 entry, lady sjade1. not sure if you tried this, but i generally resize vectors by going to File/Save For Web And Devices/Image Size. reconfigure the Width or Height. save as a PNG-24.


---